The Commission on Congregational Mission has taken up the issue of Racial Justice and Racism in the church as its focus for the latter part of 2021 and the first part of 2022. Commission members have been tasked with reading a volume and returning to the Commission with a review of the text as part of the study process.
Rev. Terry West of Milwaukee, New Hope has penned this review of No Innocent Bystanders: Becoming an Ally in the Struggle for Justice by Shannon Craigo-Snell and Christopher Doucot.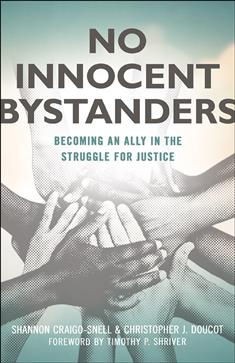 ABC Commission On Congregational Missions
Continuing a Second Project dealing with the issue of Social Justice.
"Racism in the Church"
Definitions:
Social Justice:  The view that everyone deserves equal economic, political and social rights and opportunities.
Racism: A belief or doctrine that inherent differences among the various human racial groups determine cultural or individual achievement usually involving the idea that one race is superior and has the right to dominate others or that a particular racial group is inferior to the others.
The book that I selected for review was "No Innocent Bystanders: Becoming an Ally in the Struggle for Justice" by Shannon Craigo-Snell and Christopher Doucot.
A bystander is a person who is present when something happens and who sees it, but does not take part in it.
If churches have a disconnect between the Teaching of God's word and the Practice of Racial & Gender Justice, the writer's introductory type book may be a good place to begin the necessary tough conversations, within a congregation. But talking religion and living religion, are two different actions. Conversations are good, but "walking a mile in somebody else's shoes," could make all the difference, in the world. As a Viet Nam Veteran, I truly know what "boots on the ground" means! The writers wanted the reader to understand the struggles for LGBTQ Equality and Racial Justice.
First of all, the practical layout of this book is written like a small-group study guide. There are short chapters followed by discussion questions. The writers selected Racism and anti-LGBTQ oppression, as sins that require repentance, reparation, and God's grace to repair these kind of issues. It is within that framework that the authors covered some of the basics of Racism and Homophobia (a dislike of or prejudice against, the Gay community [LGBTQ]).
       (March 8, 2022) Republican Gov. Ron DeSantis (Florida) has signaled he would sign a bill which would ban/prohibit "classroom discussion about sexual orientation or gender." The bill has been referred to the "Don't Say Gay" bill. Other states are following Florida's lead.
       Secondarily, getting Ready to Become an Ally in that struggle for Justice laid upon the selected sector of the LGBTQ community for this book.  An Ally is one that is acting on behalf of others, in the pursuit of helping to end whatever type of oppression, might exist. This goal can be accomplished by educating others, being a voice for others, being a sponsor for others or being a mentor for others. Every Christian ought to be an Ally!
       Thirdly, the author sets out several Resources for Being an Ally one would need to carry out this assignment, by considering the words of the Apostle Paul: "And now abideth faith, hope, charity (love) these three; but the greatest of these is charity (love)" (1 Corinthians 13:13).  "For God SO loved the world…" (John 3:16).
       Finally, some Concrete Steps are provided in order to carry out the mission. A number of individual leaders share some of their lifetime experiences to shed light on a number of actions they successfully took along their journey in times like these.
Above all, as the body of Christ, as an Ally, let us study, teach and live out God's word directly and through His prophets of old.
"If my people, which are called by my Name, shall humble themselves and pray, and seek my face, and turn from their wicked ways: then will I hear from heaven, and will forgive their sin, and will heal their land." (2 Chronicles 7:14)
"The grass witherth, the flower fadeth: but the word of our God, shall stand for ever." (Isaiah 40:8)
"If a man say, 'I love God,' and hateth his brother, he is a liar: for he that loveth not his brother whom he hath seen, how can he love God, whom he hath not seen"? (1 John 4:20)
"For I was hungry, and ye gave me meat: I was thirsty, and ye gave me drink: I was a stranger, and ye took me in;….Inasmuch as you have done it unto one of the least of these my brethren, ye have done it unto me." (Matt 25:40)
"For ye have the poor always with you;" (Matthew (26:11a)
"As we have therefore opportunity, let us do good to all men, especially unto them, who are of the household, of faith." (Galatians 6:10)
As a child of God , a true Ally in the struggle for Justice, a favorite songwriter reminds us:
"If I can help somebody as I pass along, If I can cheer somebody with a word or song, If I can show somebody he is traveling wrong; Then my living, shall not, be in vain."
TJW
~~~~~~~~~~~~~~~~~~~~
Rev. West is ending his term of service on the Commission on Congregational Mission. The Commission and the region at large wish to extend their heartfelt thanks for sharing his time and talents in the work of the Commission.
~Your Commission on Congregational Mission
Bonnie Sorenson, Wauwatosa, Underwood Memorial
Carolyn Parker, Milwaukee, Progressive
Terry West, Milwaukee, New Hope
Linda Cutler, Milwaukee, Greater Mt. Zion
Russ Antos, retired
Karen Sundland, West Allis, First